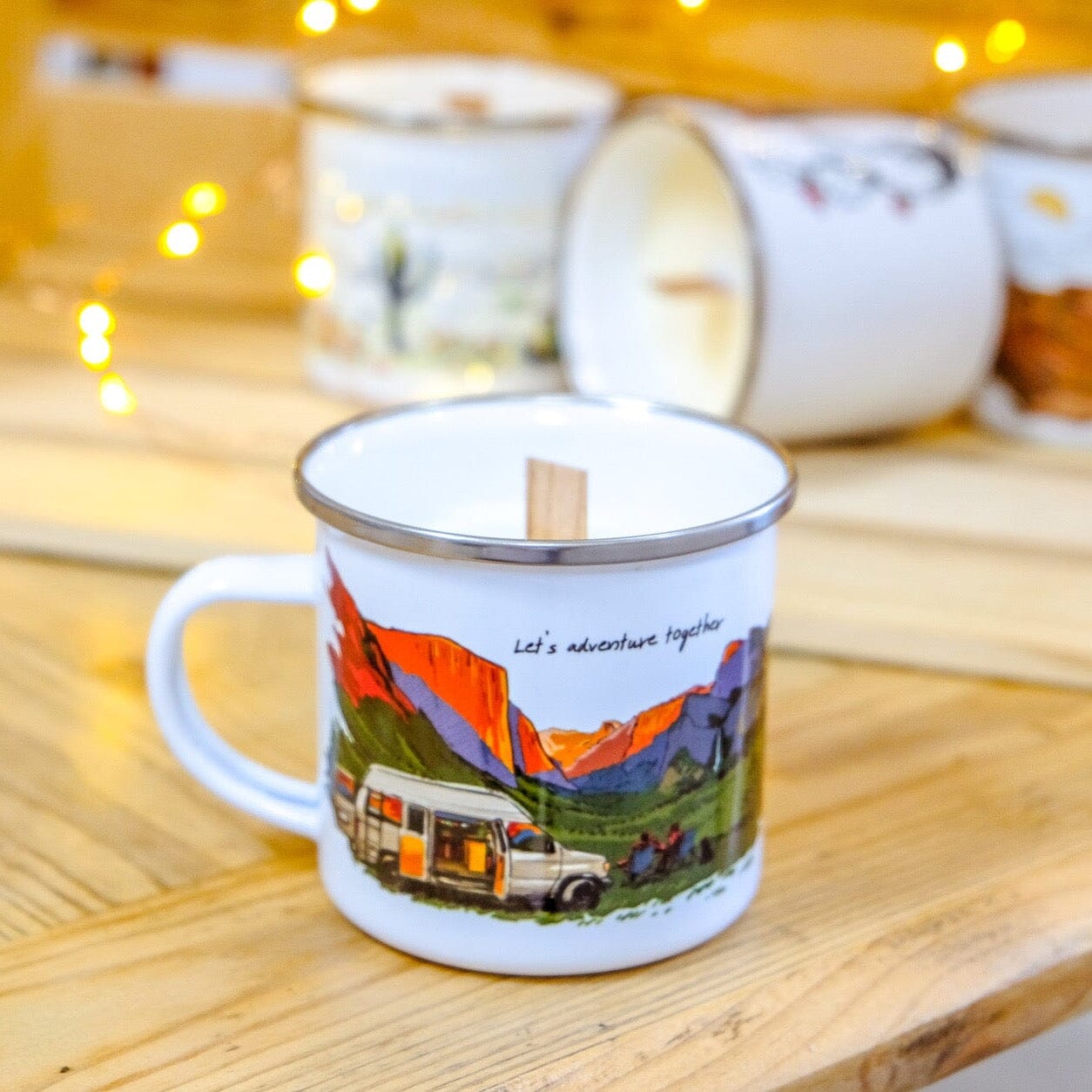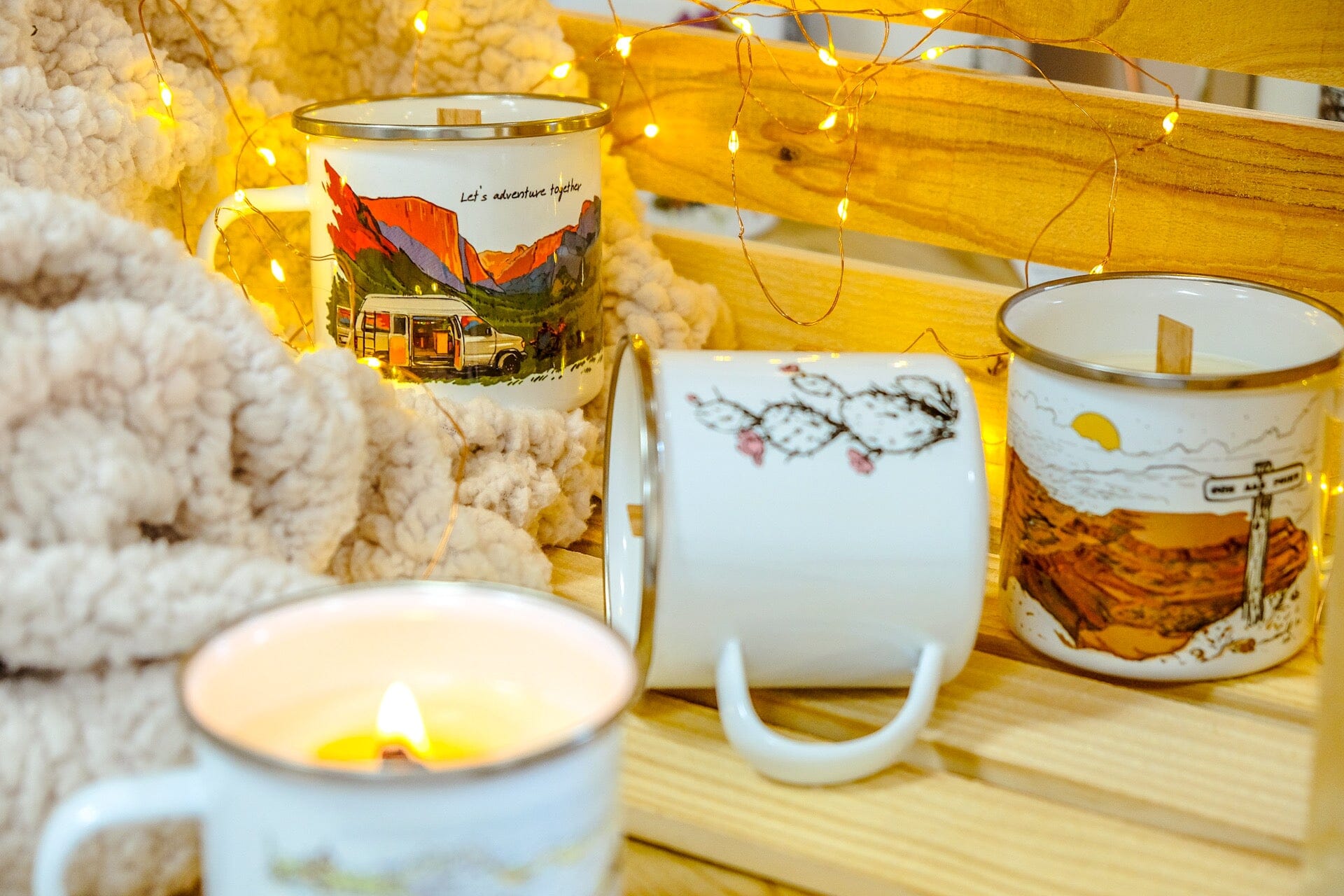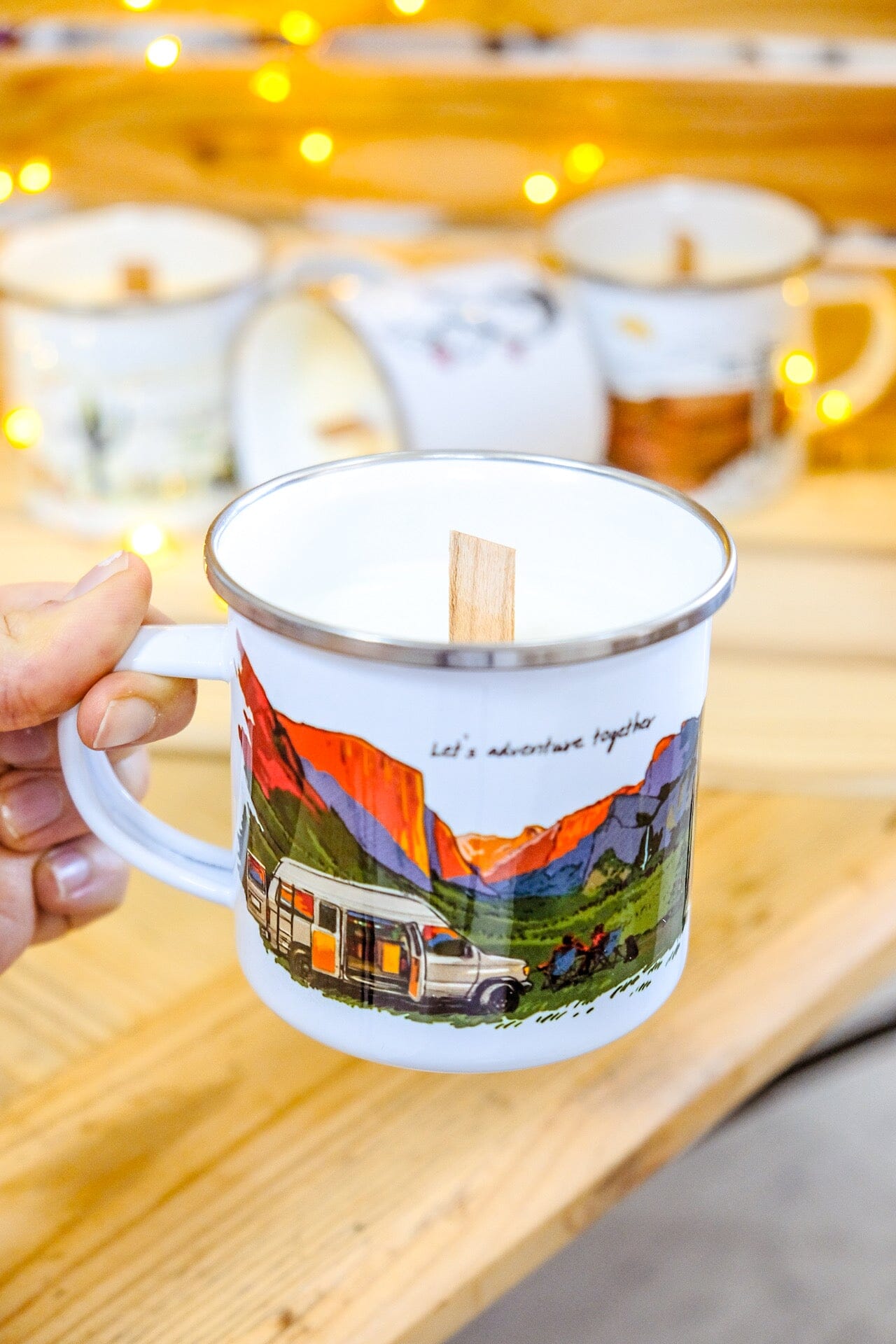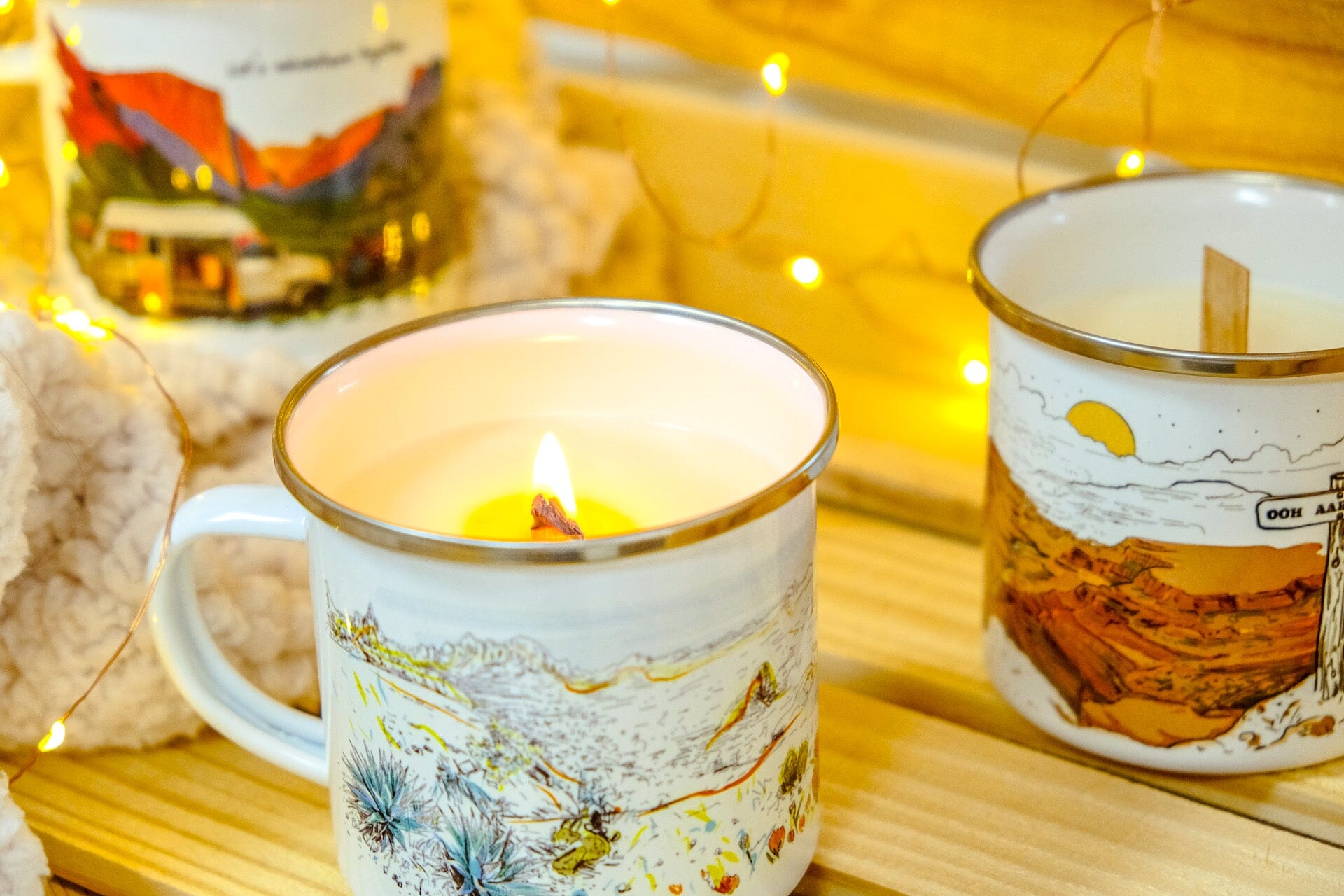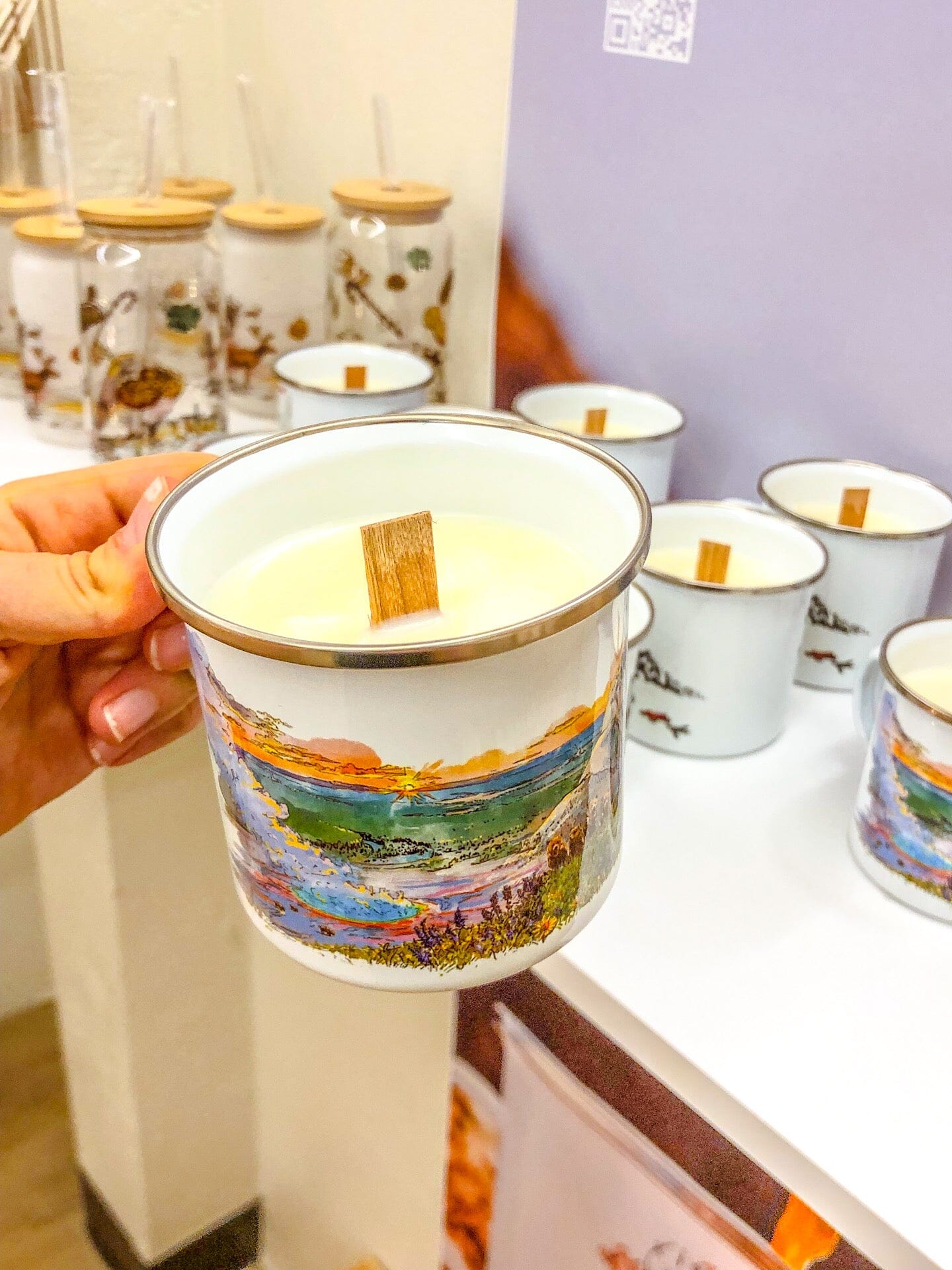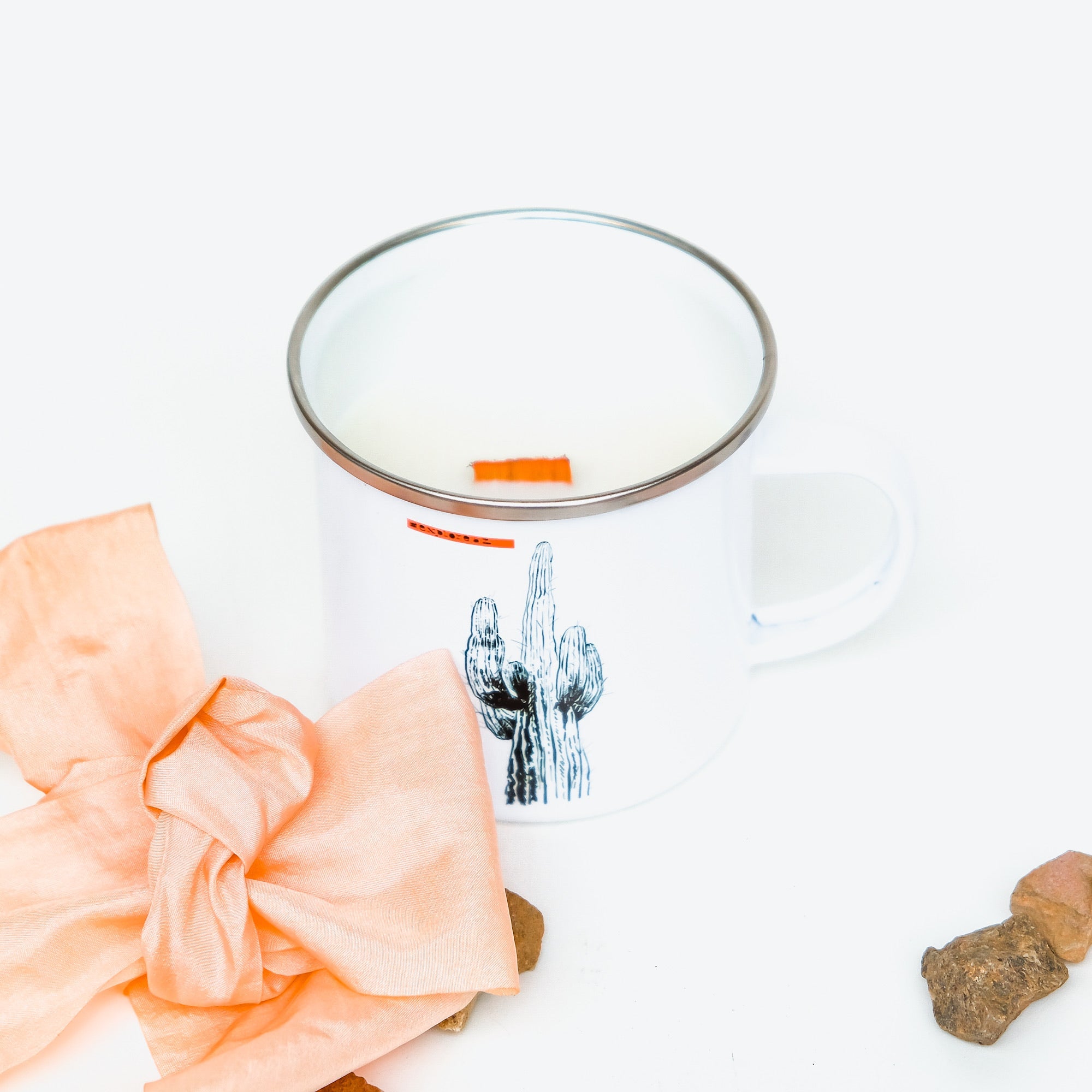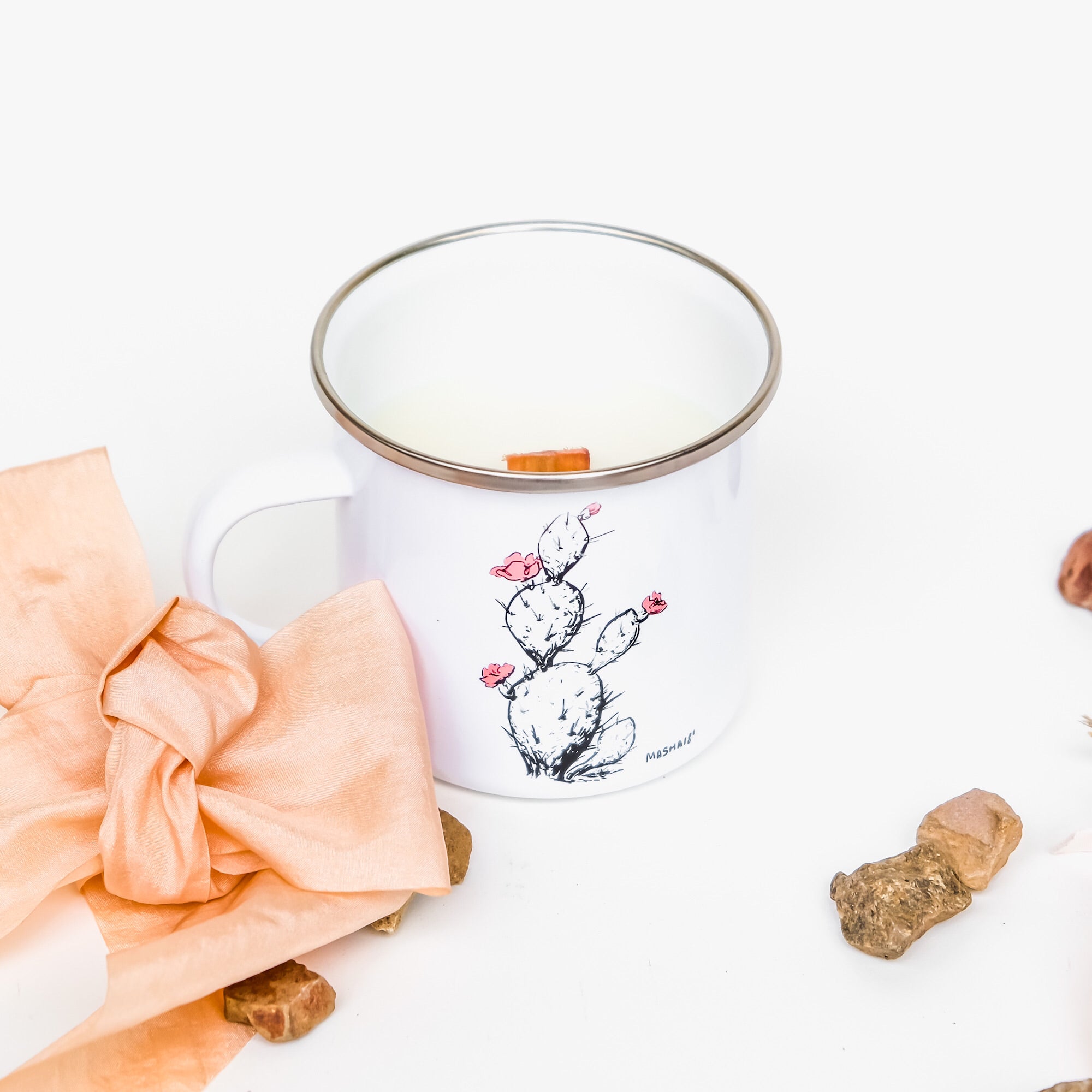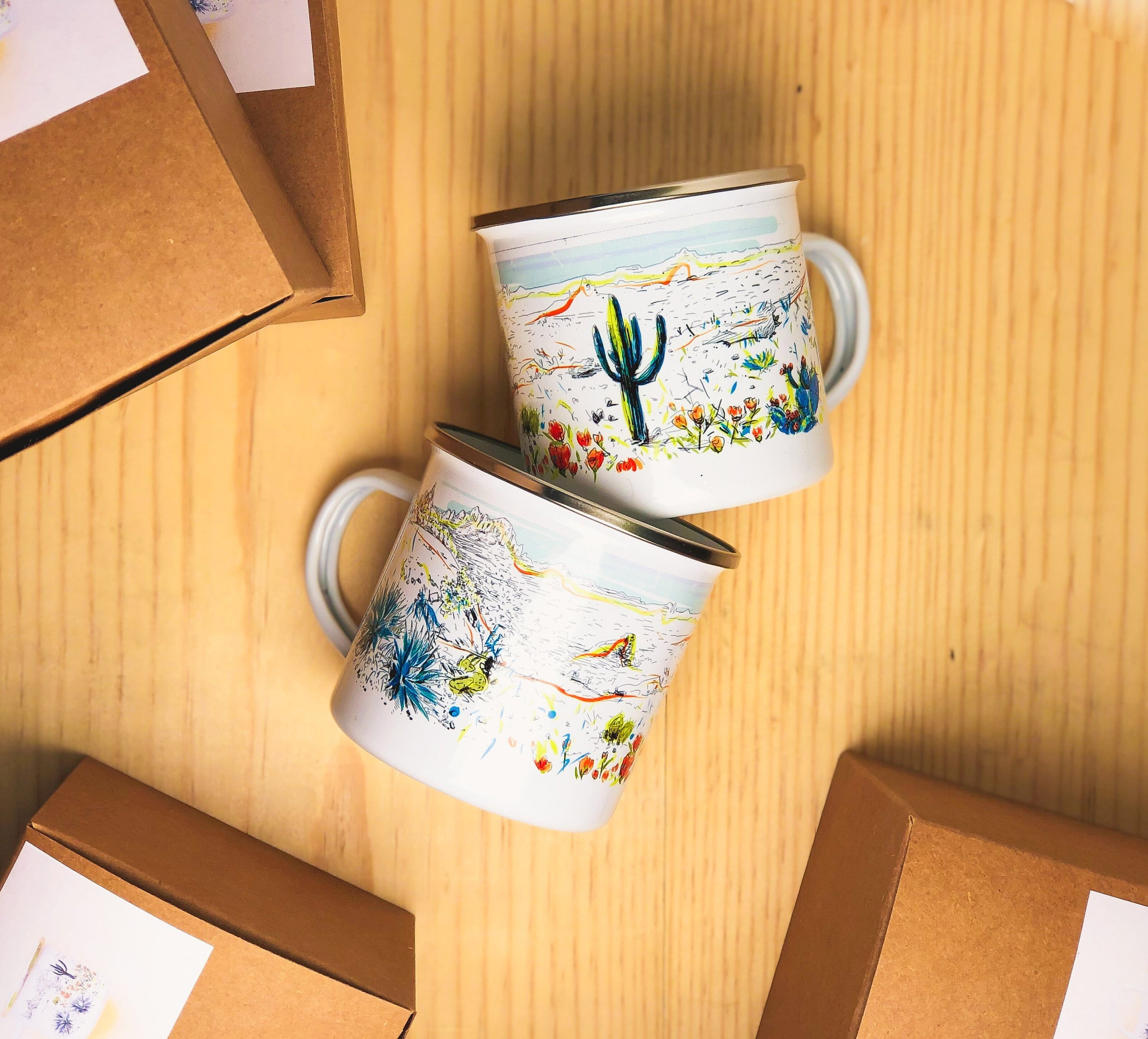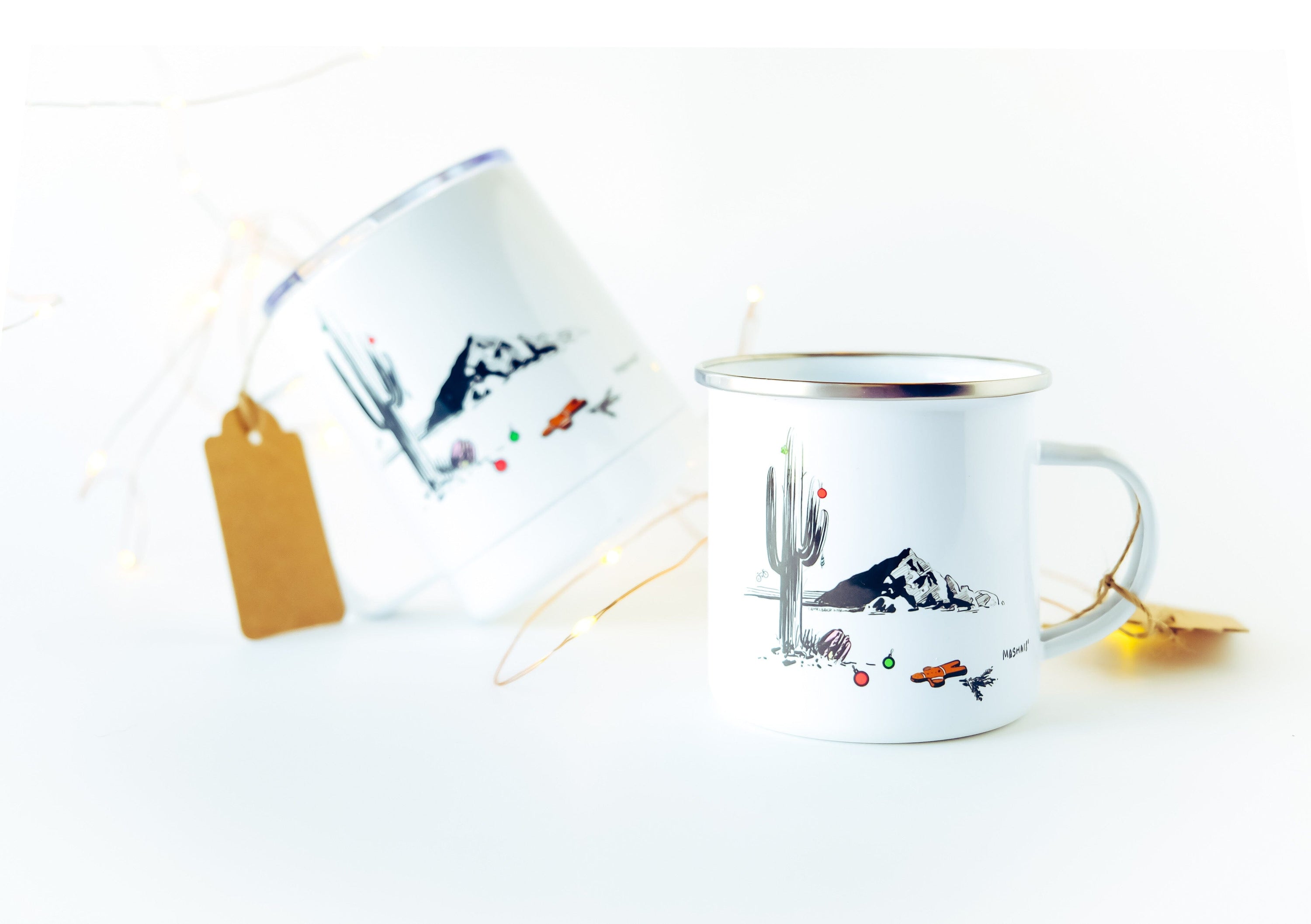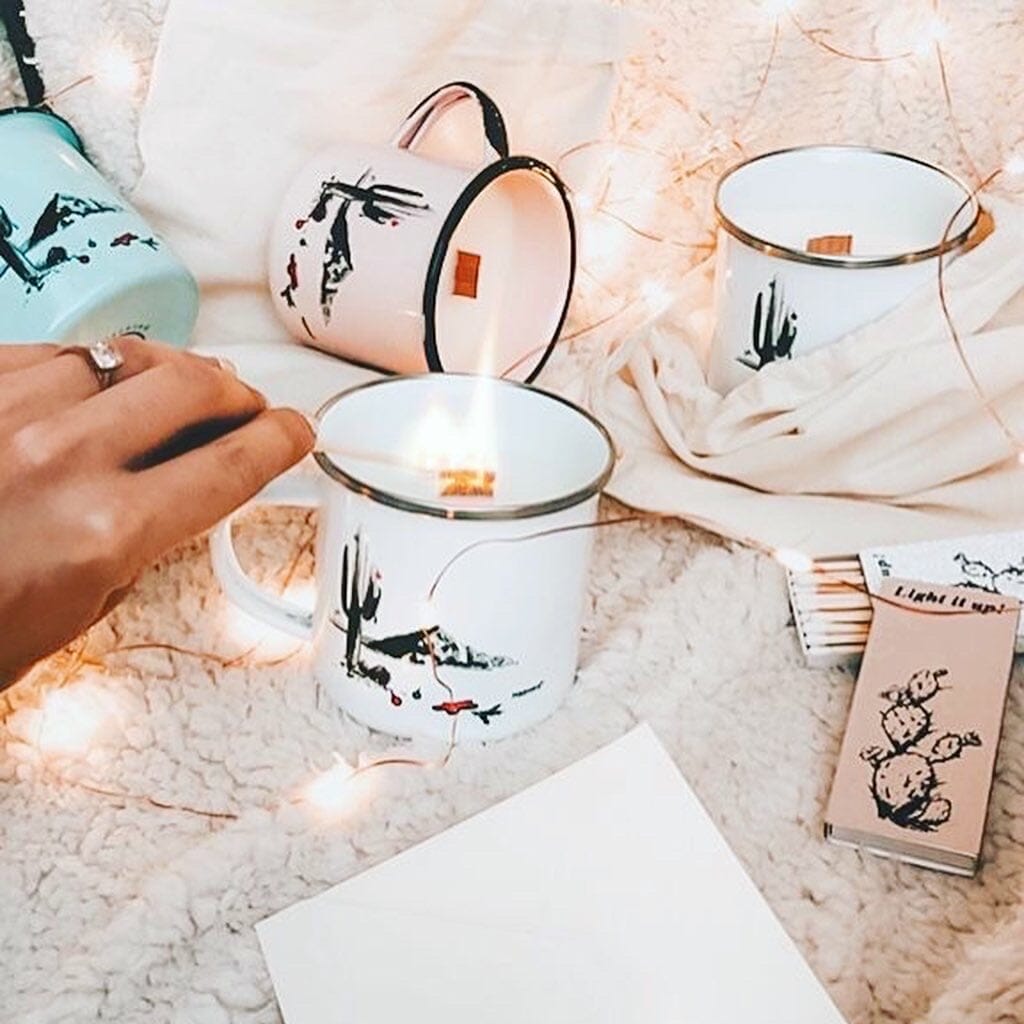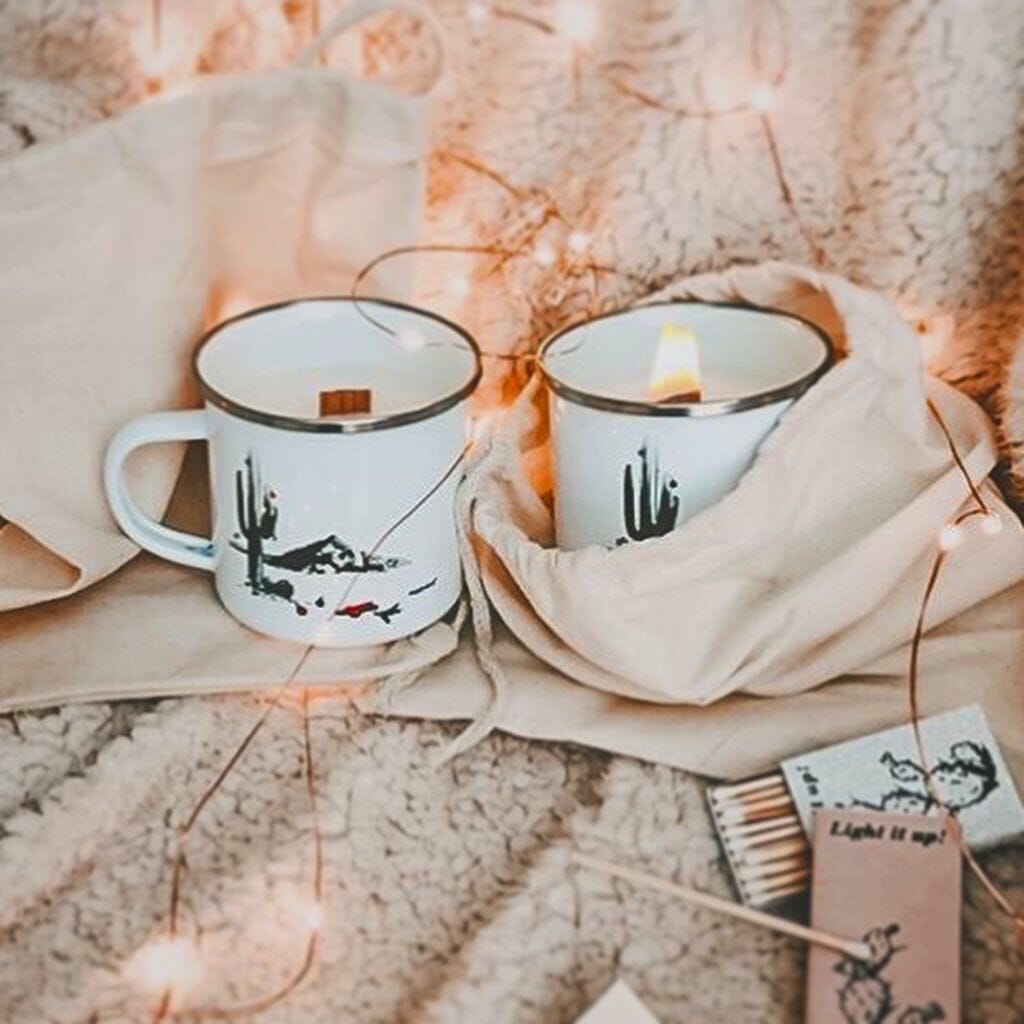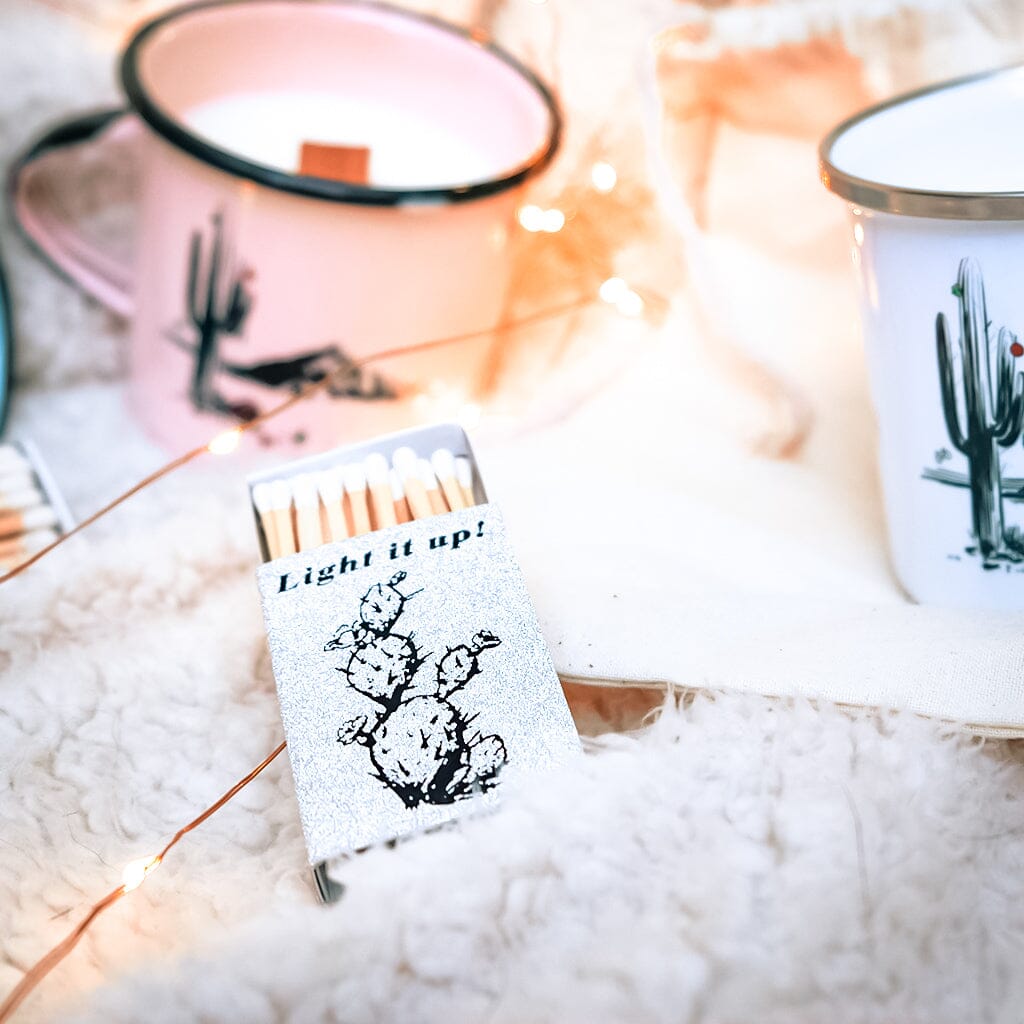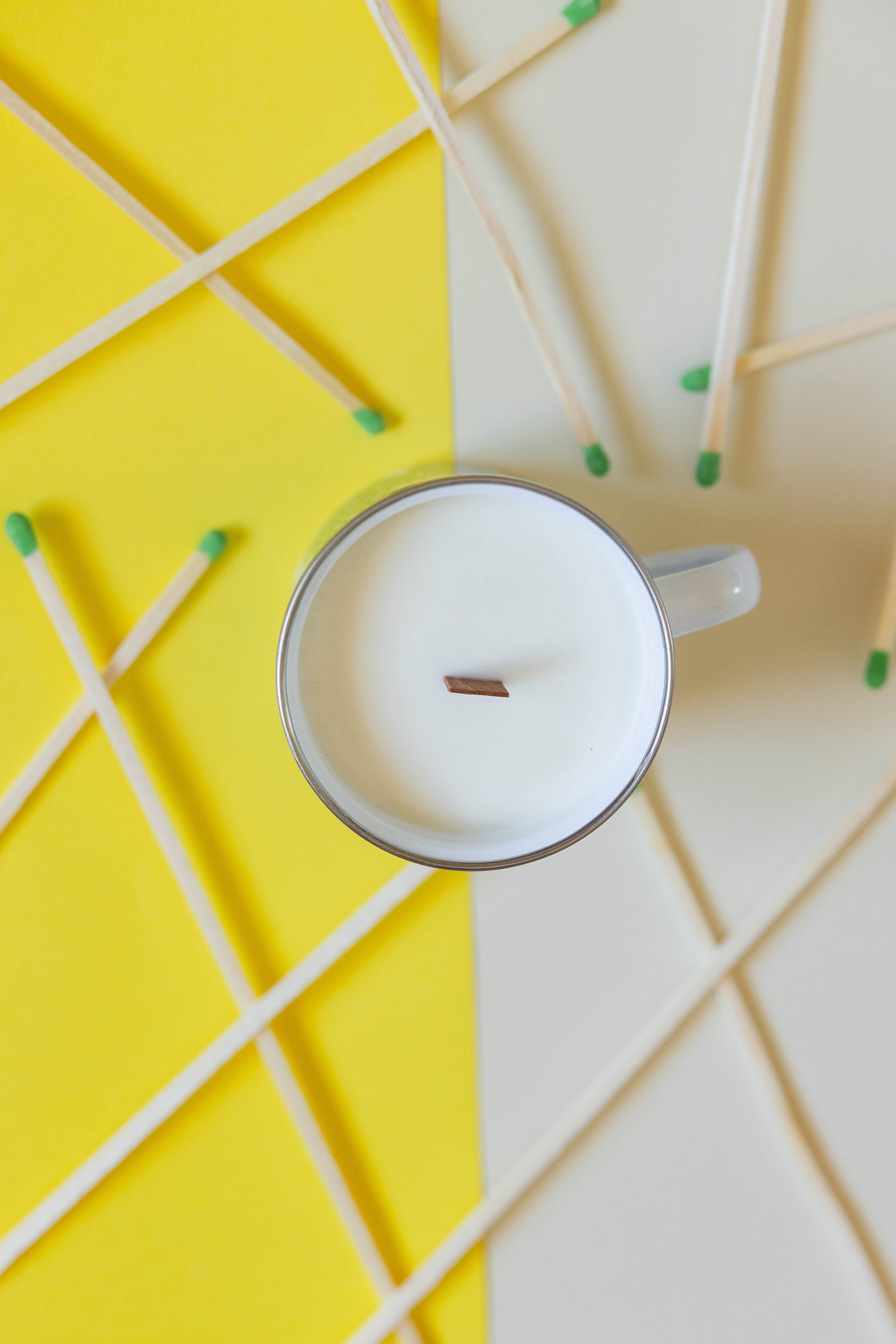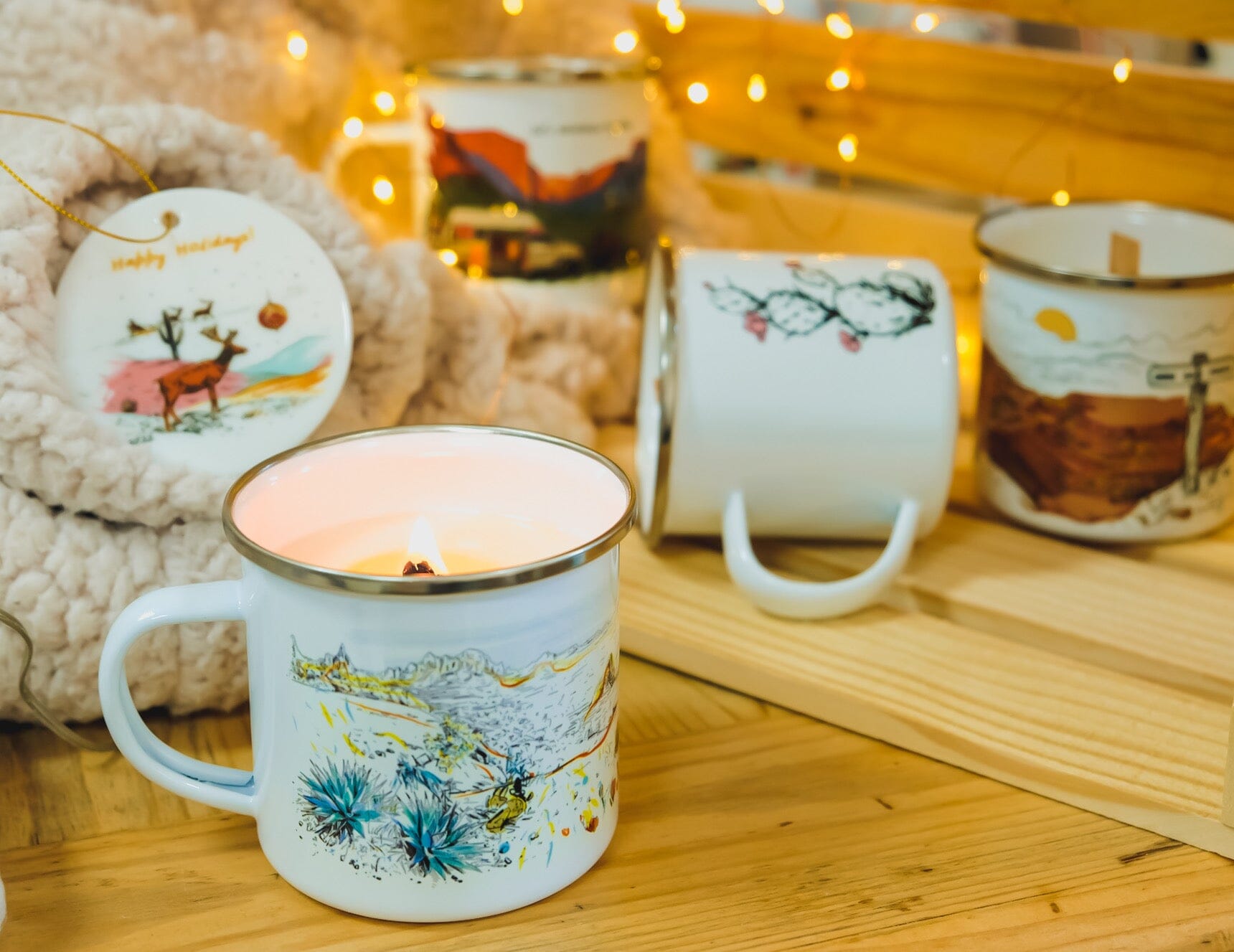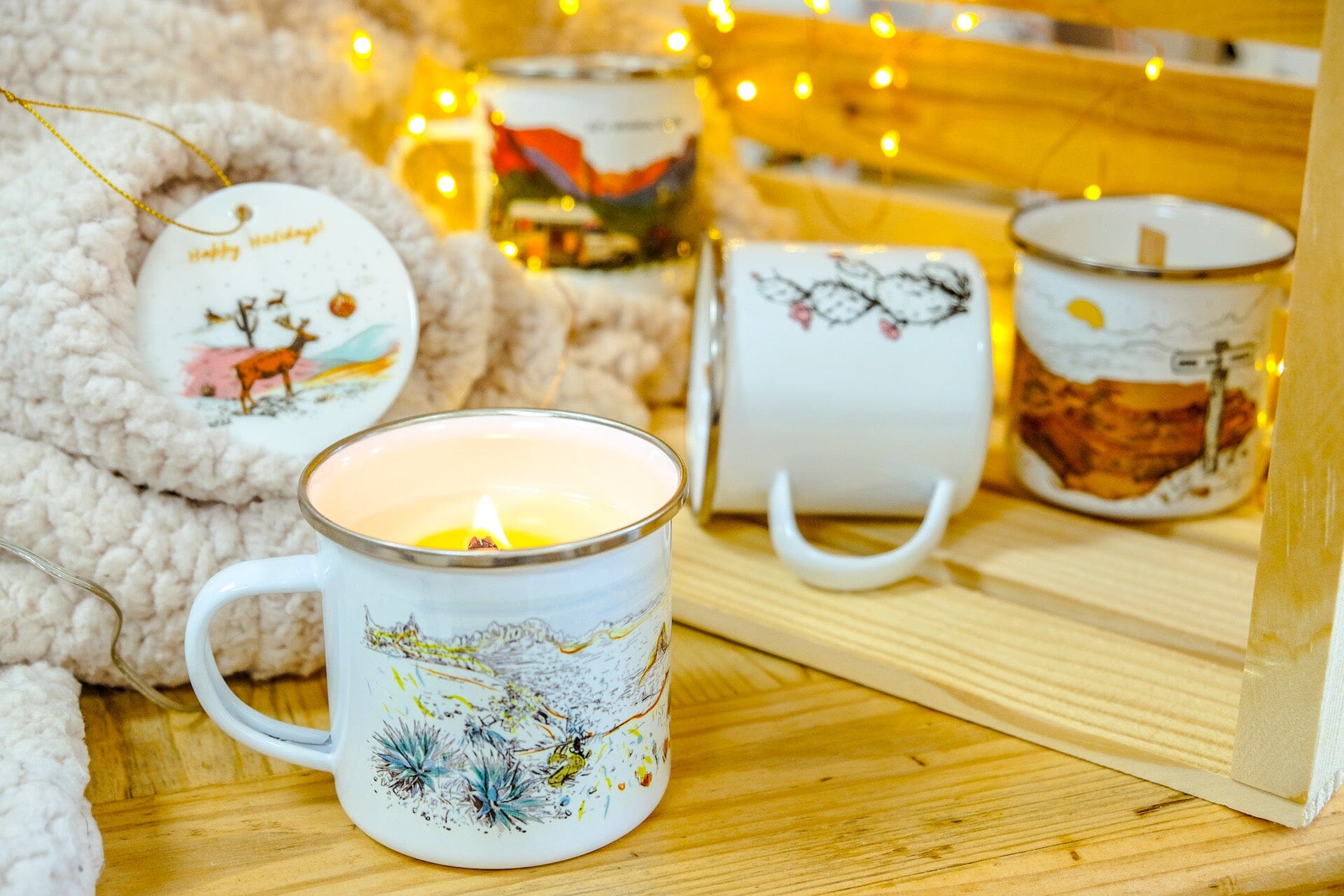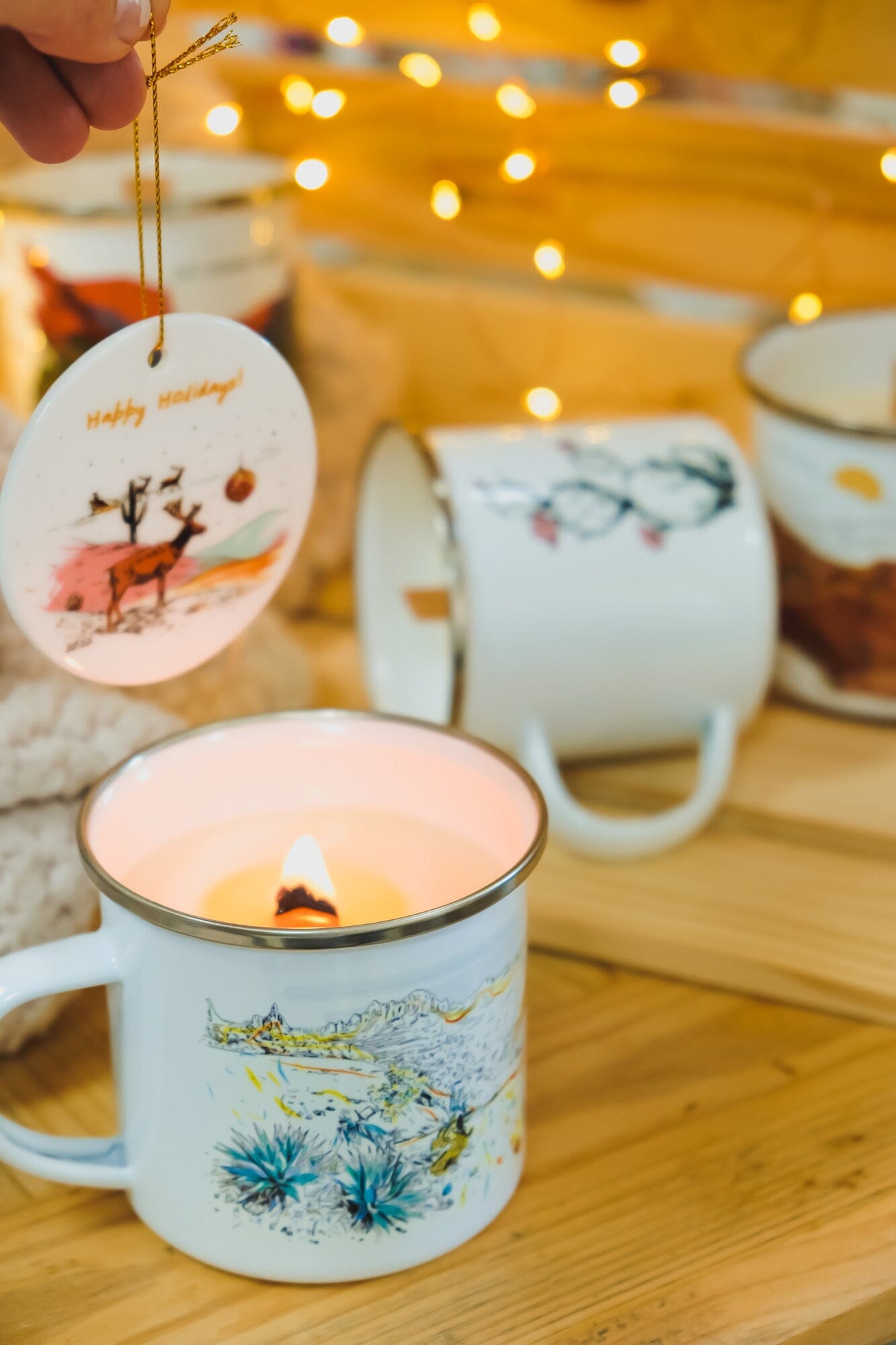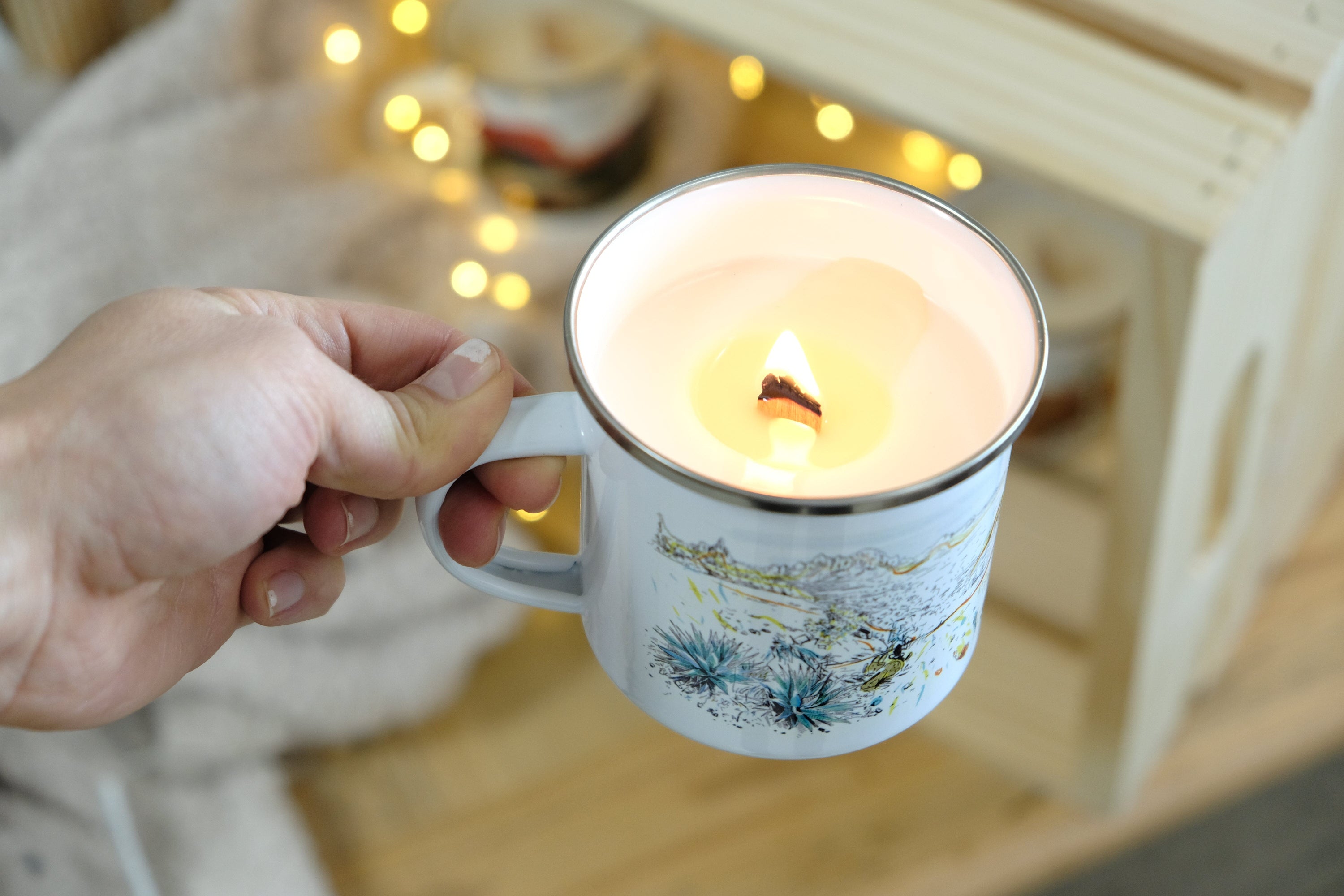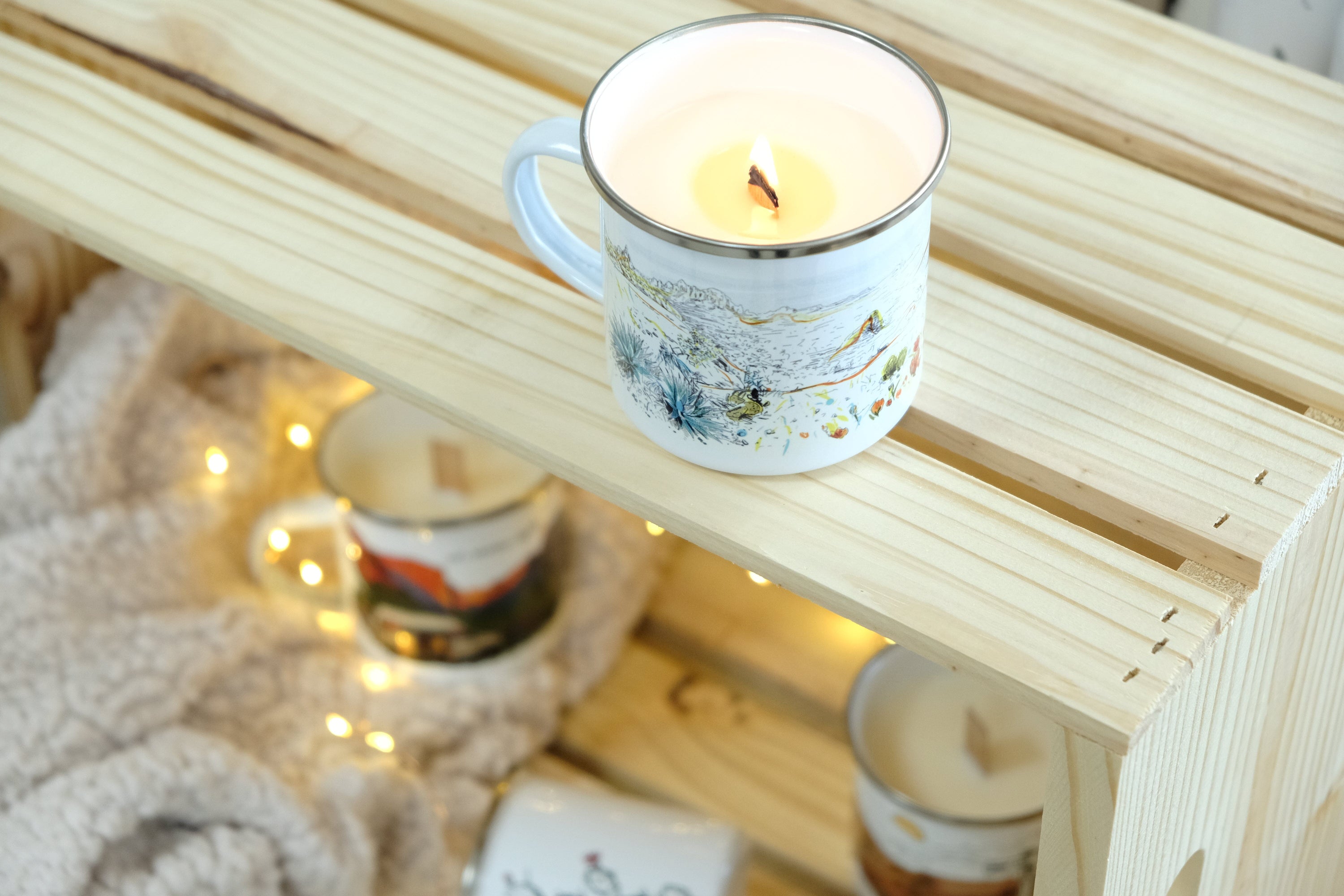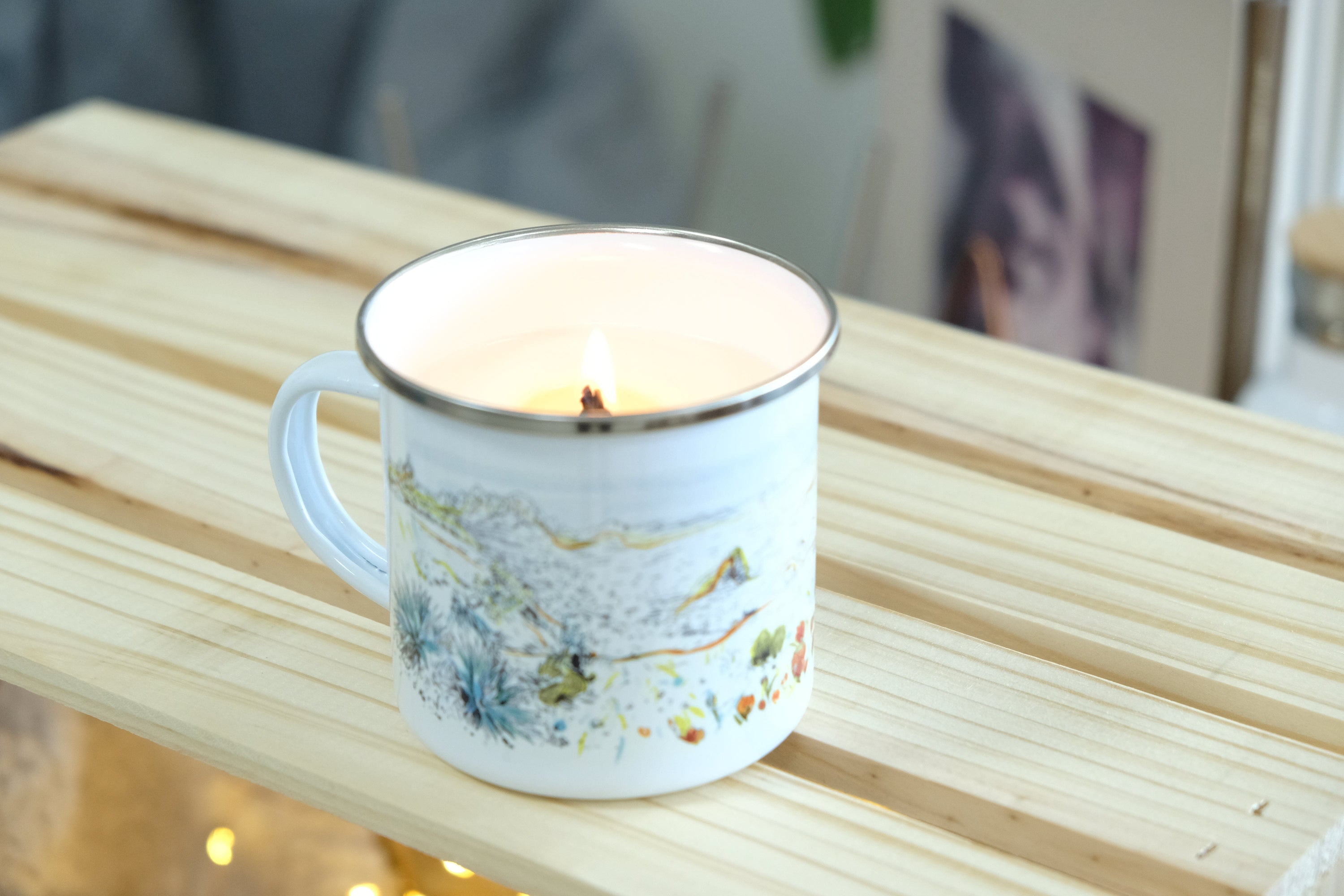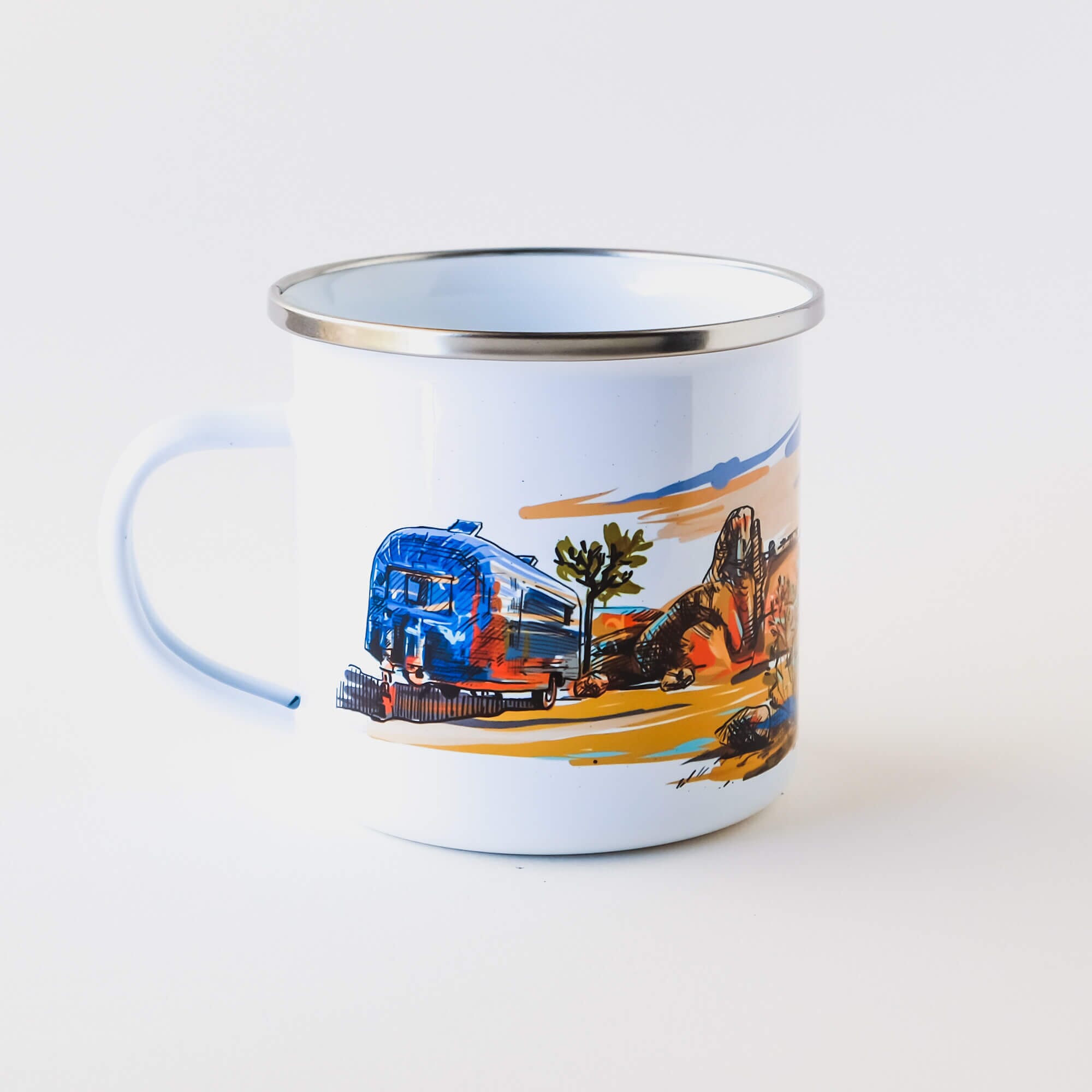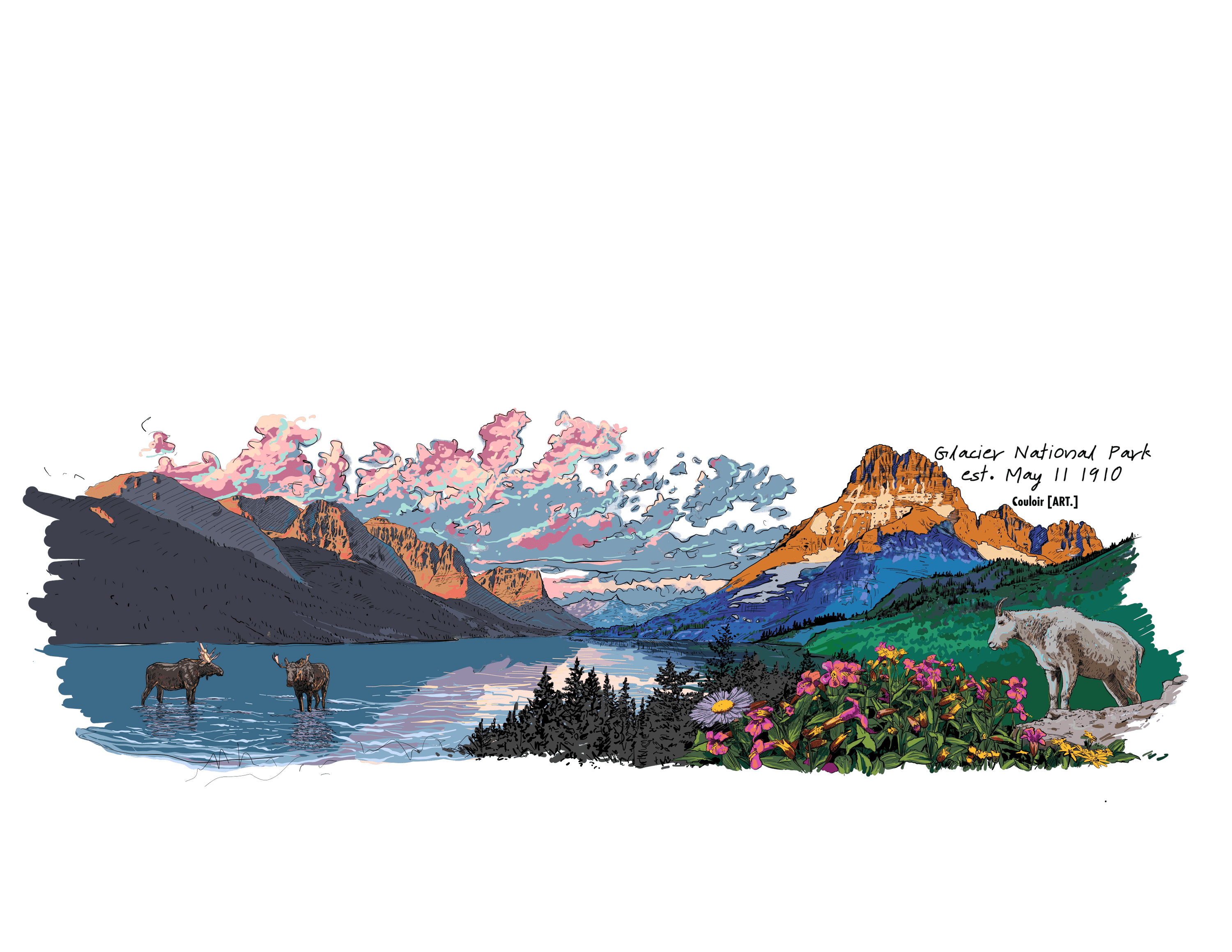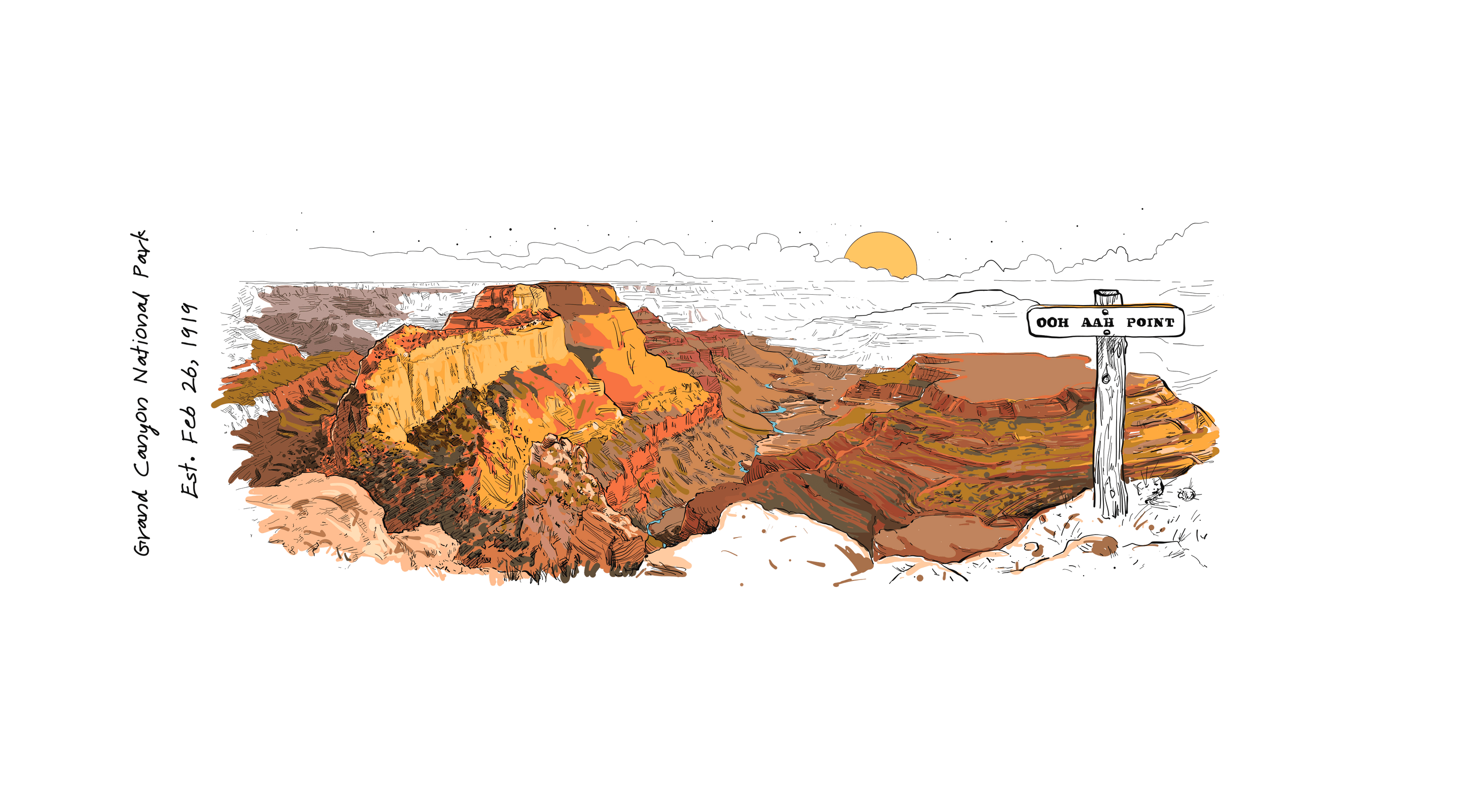 National Park-Inspired Organic Camp Mug Candle | Eco-friendly Scented Soy, Coconut & Beeswax | Wood Wick | Unique Gift
Description
Technical Characteristics
Care
Introducing our brand-new line of Organic Soy, Coconut, and Beeswax Scented Camp Mug Candles with Wood Wick – the perfect embodiment of sustainability and adventure, designed for those who cherish the great outdoors and unique gifts. These exceptional candles blend eco-consciousness with the spirit of national parks, creating a truly unique experience.

Our Nature and National Park-Inspired Collection is a tribute to the breathtaking beauty of our natural world, making it the ultimate choice for anyone seeking National Park gifts that stand out. Each candle is hand-poured with love and care, ensuring a unique piece that radiates an inviting coffee scent, reminiscent of those cozy mornings by the campfire.
Crafted from the finest organic soy, coconut, and beeswax, these candles embody sustainability at its best. The wood wick crackles softly as it burns, creating a soothing ambiance that mirrors the sounds of the wilderness. The mugs are crafted from recycled materials, making this the ultimate choice for those who prioritize eco-friendly living.
Our camp mug candles also double as unique candle holders. Once your candle has completed its journey, simply wash the mug, and you're left with a charming, rustic candle holder. These tin candles are perfect for anyone who enjoys multifunctional, sustainable gifts that speak to the heart.
Embrace the allure of nature and the warmth of sustainable living with our National Park-inspired candles. These candles are not just gifts; they're an invitation to embark on an adventure in the comfort of your own space.
Optimize your gifting experience with our unique National Park Candle Collection today, and let the aroma of coffee-scented candles transport you to your favorite national park. Experience the magic of the great outdoors from the comfort of your home.
Grab them by a handle to easily carry them around and enjoy the cozy crackle of the wooden wick while soaking in the Holiday spirit or enjoying some Christmas movies with your family.

Each design has its own story to inspire you on your next adventure, whether it's getting lost in a new book on a cozy couch or catching an epic sunrise before a day's climb. These camping mug candles make perfect gifts for campers and for a unique Holiday home-decor touch!

Scents
*We use essential oils to add scent to our candles (as natural is always better than what's designed in a lab).
Christmas leaves and honey with a hint of candied lemon
Coffee

Oatmeal and honey
Woodsy Sandalwood
Pumpkin Powdered Sugar
Vanilla
Arizona Desert
candle - wooden wick, bland of organic bees and soy wax
3.5 Inch diameter - stands 3.25 inches tall
Solid white with stainless steel rim / pink with black rim / baby-blue with black rim

Stovetop/fire and dishwasher safe (if reused)
Enamelware is not intended for microwave use
Locally printed in Arizona, USA
National Park-Inspired Organic Camp Mug Candle | Eco-friendly Scented Soy, Coconut & Beeswax | Wood Wick | Unique Gift
FAQ
Are these dishwasher-safe?
Hand washing is recommended for the longevity of drinkware and its insulation properties. Top rack of the dishwasher is ok.
Are these custom designed?
All designs are original and created by our artists locally.
Are bottles insulated?
They are and they the keep great both cold and hot liquids.
Can you put them in microwave?
Our products are not microwave-safe however the camp mugs (only) can be heated on the stovetop or campfire (design may darken from the fire). Handling with caution is advised when heating the drinks or food in a camp mug as it will get very hot.
Shipping
Shipping promise
All out products are hand-printed locally in Arizona USA. The orders usually ship within a week. Thank you for supporting a small business and understanding the quality and sustainable practices we prioritize at cost of instant shipments offered by other sellers.
Order tracking
After you place your order you will receive a tracking number to see where your shipment is.
Get in touch
We love hearing from you! If you have pics from your recent adventures feel free to tag us and get a chance to be featured. We try to respond to all messages promptly and we love being a part of the interactive community.
About us
Couloir
Adventures don't have to be just once-in-a-while. We believe that little everyday moments can become epic adventures with a dash of imagination. From camping out under the stars in the Grand Canyon to camping out in your living room, our products bring the practicality you need and escape you crave.
Our Story
Born in the mountains and sturdy as saguaro Couloir was established in the valley of the sun in Scottsdale, Arizona. Proud to be a woman-owned small business. We produce custom designed and hand-printed locally reusable drinkware, organic camp mug candles, and one-of-a-kind t-shirts made from recycled materials. We create to inspire adventure and give back to nature by donating part of sales to the conservansies.
Our Products
Our drinkware includes: classic enamel camp mugs (great for or cold drinks - from coffee to Moscow mules); insulated water bottles that hold drinks ice-cold for the whole day (essential for hiking and easy to carry by the handle attached to the bamboo lid) and they fit snug in the golf cart's cup holder for the long day on the course; insulated sippy cups are cute and great for toddlers as they won't break but also will keep the drinks cool during our toasty AZ summer days - they can also be customized with the name or a quote you like.